G Suite promo code 2020 – 20% coupon of discount for Basic and Business plan
Request New G suite Coupon
The coupons are unique for each country and each person can use them only once, ask us for new ones, stating your country and the type of the plan (Basic or Business). You have here a video with all steps of How to get a G Suite Coupon :
STEP 1 – Sign up for G Suite .
STEP 2 – G Suite only provides coupons for the given countries, and in some of them it only provides the Basic but not the Business plan types .
STEP 3 – Please, fill out the form. If you leave your email address for us we will send you the instructions, but if you do not want to give your details you will get your new and personalised discount coupon immediately. If you have any questions, you can leave your comment in the chat on the website or in Youtube video .
Get G Suite promo code Basic
You can fill out this form or go directly to this link to obtain a G Suite promo code Basic immediately .
Get G Suite promo code Business
You can fill out this form or go directly to this link to obtain a G Suite promo code Business immediately .
Gsuite can only offer the discount codes for the folowing countries:
Europe
Spain, Belgium, France, Germany, Ireland, Italy, Netherlands, Portugal, United Kingdom and United Arab Emirates .
America
        Argentina, Brazil, Canadá, Chile, Colombia, Mexico, Peru, United States and Puerto Rico .
Asia
Australia , Hong Kong , India, Japan , New Zealand , Singapore , Indonesia , Malaysia , Philippines , South Korea , Taiwan and Israel .
The countries that are not included in the green list above do not have any discount codes, but you can still sign up from the following link to use and try GSuite FREE for a few days:
Afghanistan , Albania , Algeria , American Samoa , Andorra , Angola , Anguilla , Antarctica , Antigua & Barbuda , Armenia , Aruba , Austria , Azerbaijan , Bahamas , Bahrain , Bangladesh , Barbados , Belarus , Belize , Benin , Bermuda , Bhutan , Bolivia , Bosnia & Herzegovina , Botswana , Bouvet Island , British Indian Ocean Territory , British Virgin Islands , Brunei , Bulgaria , Burkina Faso , Burundi , Cambodia , Cameroon , Cape Verde , Cayman Islands , Central African Republic , Chad , Christmas Island , Cocos (Keeling) Islands , Comoros , Congo – Brazzaville , Congo – Kinshasa , Cook Islands , Costa Rica , Côte d'Ivoire , Croatia , Cyprus , Czechia , Denmark , Djibouti , Dominica , Dominican Republic , Ecuador , Egypt , El Salvador , Equatorial Guinea , Eritrea , Estonia , Eswatini , Ethiopia , Falkland Islands (Islas Malvinas) , Faroe Islands , Fiji , Finland , French Guiana , French Polynesia , French Southern Territories , Gabon , Gambia , Georgia , Ghana , Gibraltar , Greece , Greenland , Grenada , Guadeloupe , Guam , Guatemala , Guinea , Guinea-Bissau , Guyana , Haiti , Heard & McDonald Islands , Honduras , Hungary , Iceland , Iraq , Jamaica , Jordan , Kazakhstan , Kenya , Kiribati , Kuwait , Kyrgyzstan , Laos , Latvia , Lebanon , Lesotho , Liberia , Libya , Liechtenstein , Lithuania , Luxembourg , Macao , Madagascar , Malawi , Maldives , Mali , Malta , Marshall Islands , Martinique , Mauritania , Mauritius , Mayotte , Micronesia , Moldova , Monaco , Mongolia , Montenegro , Montserrat , Morocco , Mozambique , Namibia , Nauru , Nepal , New Caledonia , Nicaragua , Niger , Nigeria , Niue , Norfolk Island , North Macedonia , Northern Mariana Islands , Norway , Oman , Pakistan , Palau , Palestine , Panama , Papua New Guinea , Paraguay , Pitcairn Islands , Poland , Qatar , Réunion , Romania , Russia , Rwanda , Samoa , San Marino , São Tomé & Príncipe , Saudi Arabia , Senegal , Serbia , Seychelles , Sierra Leone , Slovakia , Slovenia , Solomon Islands , Somalia , South Africa , South Georgia & South Sandwich Islands , Sri Lanka , St Helena , St Kitts & Nevis , St Lucia , St Pierre & Miquelon , St Vincent & Grenadines , Suriname , Svalbard & Jan Mayen , Sweden , Switzerland , Tajikistan , Tanzania , Thailand , Timor-Leste , Togo , Tokelau , Tonga , Trinidad & Tobago , Tunisia , Turkey , Turkmenistan , Turks & Caicos Islands , Tuvalu , Uganda , Ukraine , Uruguay , US Outlying Islands , US Virgin Islands , Uzbekistan , Vanuatu , Vatican City , Venezuela , Vietnam , Wallis & Futuna , Western Sahara , Yemen , Zambia ,Zimbabwe , etc… .
 Where do I introduce the promotional code?
In case you didn´t introduce the promotional code when registrating, once signed up in G Suite, you can log in to GSuite with your domain name and choosing the Administration Control panel.
At the right top of the Control panel, you can see the red "Set up billing" button.
You should click on it and the Configuration Billing window will be opened , where you can introduce the promotional code in the corresponding field.
If you need to introduce this code after entering the billing details, you can find this option in the Payment Plan section of the Billing section.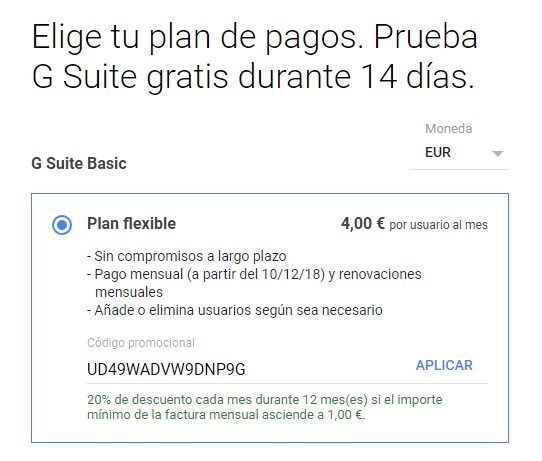 Introduce the promotional code coupon G Suite in the Billing section of the administration control panel when you sign up (along with the link to your country) or during the trial period of 14 days (as after more than 14 days it will impossible), and so you will get a Google Suite discount.
If you use the following links, you should try a G Suite FREE trial. This offer is for the whole 2020! You can find it through the link below.
In case you are willing to try it before purchasing, use these coupons G Suite promotional codes offer 20% discount for the first year, and you can also apply them to register, but you can also use them if you have already registered and it hasn't been more than 14 days after your registration. These coupons are valid for the whole of the year: January, February, March, April, May, June, July, August, September, October, November and December.
G Suite opinions
It is absolutely right that G-Suite is very good because it has been being used for years and we strongly recommend it to everyone.
If you are not certain, use it for FREE and if you decide to buy it, with the coupons of promotional codes you can use it for the first year with a 20% discount.
G Suite vs office 365
We have checked the 2 suites and we have proved Gsuite is way better than Microsoft Office 365 suite.
G Suite proven tips to save up to 50%
Let's share everything I learned and if you use these tips as it is shown you can save around 20 – 50%, depending on our scenario.
Start with a 20% G SUITE PROMO CODE for new customers
Let's start with a 20% easier guaranteed savings assuming you're a new customer.
Don't stop at just 20%, I recommend you read 9 more ways below to further reduce your recurring costs.
MULTIPLE BUSINESSES – SMART WAY
CONSOLIDATE MULTIPLE BUSINESSES (DOMAINS) UNDER ONE ACCOUNT
Let's take a scenario, you run 3 small businesses, each business has its own website, now you need 3 email addresses to interact with potential customers and customers of these businesses.
Instead of going with the usual way of buying 3 G Suite licenses, let's see how playing a little smart here can save us 65% over the 20% we've already saved with the G Suite Commercial Promotion Code.
USUAL WAY
Register 3 domains
Buy 3 licenses and pay $15 per month ($5/month * 3 licenses, one on each domain)
Create 3 gmail addresses (one for each domain)
Switch from one side to the other in all 3 to check and reply to emails
SWITCH TO ANNUAL PLAN ( CHECK AND SAVE 17% MORE )
If you've been following so far, you have 14 trial days + use the G Suite Basic Promo Code and get a 20% discount.
Now you're confident that G Suite can help you be productive and collaborative with its innovative cloud-based tools such as Gmail, Google Docs, Google Drive, Google Calendar, Hangouts, videoconferencing, sites, Google Vault along with management controls.
Then it's time to consider switching to an annual plan, as it includes 17% additional savings over the G Suite promotion code than flexible plans.
Below, I've highlighted the pros and cons of Flexible and Annual (Monthly vs. Annual) plans that should help you decide what's best for you.
ANNUAL VS. MONTHLY PLAN
ANNUAL PLAN
Approximately 17% more savings on G Suite promotion code
No hassle of making (or tracking) monthly payments
Try to treat G Suite as your long-term email system and inspire it to get the most out of it.
You're locked up for a year, so if you buy 10 licenses and two of your employees leave, you can't ask Google to refund the payment to 2 users, you only have the option to give new employees once they join.
MONTHLY PLAN
Pay on-the-fly, monthly billing cycle, increase or decrease licenses monthly as needed
Not blocked, in the worst case scenario, if you want to stay away from G Suite (Google Apps), you are only responsible for the payment for that month (monthly bill).
Expensive: you will end up paying 17% more than the annual plan
You'll be more likely to consider other systems as you listen, when you know you can unsubscribe at any time, which could affect your productivity.
Go monthly
If you have a high dropout rate, and there is a substantial gap in the number of employees leaving and joining.
If you're buying it just to look professional (and not for your business) like yourname.com, opt for a monthly plan.
Go annual
If yours is an established business (regardless of size), go to the annual plan.
If you are a type of person or company that is excited to hear about new technologies or systems, opt for an annual plan, as it will completely stop your jump (at least for a year).
GOOGLE GROUPS
We've seen how companies go crazy when they create usernames without taking advantage of Google Groups, although a little less with the g suite business promotion code, but it will still increase their recurring expenses.
It's not uncommon to see some users creating pages like [email protected] [email protected] wasted their hard-earned money each month, as G Suite prices are recurring.
Well, that's fine, because they are experts in their business and not G Suite, but what if a little learning can help you save a considerable amount of money?
G SUITE CATCH ALL ACCOUNT
You can use your email address to subscribe to different services, it can be a subscription to a newsletter, and so on. Instead of putting your primary email ID everywhere, you should do this:
Create a Catch All Account
Now you can give anyone any email ID, you just have to end up at @yourdomain.com, that's all.
Google will detect all email sent to any @domain email ID and send you your primary mailbox.
RECIPIENT ADDRESS MAPPING
If you're not a technical person, don't be frightened to observe this technical term "Recipient Address Map". Google called it so, but we'll make it easier to understand to save some money with it.
Once you get it right, you can really save some good money, so let's go for it.
Google has a feature (which is much less known and will not be one of them after today 🙂 called "Recipient Address Assignment" which is hidden in the Control Panel, which you can access as a suite administrator when you sign up for G Suite (formerly Google Apps).
DO YOU QUALIFY TO GET G SUITE FOR FREE ?
We've sometimes seen companies jump to buy G Suite, even if they can get it for free or at a very high discount.
In case you are an educational institute, you might qualify for "G Suite for Education", which provides an unlimited number of users with a ZERO cost, here are the criteria provided by Google: – Eligibility criteria for Google education
and if you are a nonprofit organization with 501 3 C status, you can also qualify, however, it is free up to 3,000 users, and if you have more than 3k users, you can get a 66% discount.
KEEP AN EYE – REVIEW YOUR USAGE
If you only use G Suite as a single user, then that's fine, but if you have some users and generally add/delete licenses, you should make a habit of reviewing the use of your G Suite license each month.
We would say a week ago your monthly billing date, this will help you avoid paying for licenses you don't use. While you're reviewing, ask yourself these questions:
Would you need a new user, an email ID and a password to log into a new mailbox OR do you just need a way to send and receive emails?
Can I improve a Google Group and set up "Send mail as"?
If the user has left and a new one is joining, you should change a user name from [email protected] to [email protected], as this will also retain old employee data (including Gmail emails, Google Drive documents, Google+ pages), etc.
Will it take a couple of months to replace the employee on the left? If so, it's best to back up your data and delete the mailbox, and create one when a new employee joins.
What is Gsuite ? ( Google Apps for Work )
GSUITE, previously known as Google Apps with its latest name change, is a cloud-based productivity package for your business that will help you finish your work no matter where you are or what device you utilize.
G-Suite is a potent (productivity application suite) 100% web (cloud-based) suite that helps businesses and teams share thoughts, work together and do everything they need from anywhere and on any device. It's easy to install, use and manage. So your company can be focused on the essential things.
A lot of companies and organizations in the whole world rely on G Suite because of professional emails, file storages, video conferencing, online calendars, document editing and much more.
Here you have several highlights:
Business email for your domain
It is essential to have a professional look for any company; also for your communication goals feel free to use a personalized address such as [email protected] Gmail's easy and mighty features will help you make your brand and work better. You'll be able to make a one-step business email account instead of Google Gmail's user account. So there's no need for a step-by-step user gmail account.
Access your content from any place and device
Check emails, share files, edit documents, participate in video conferences, and more, no matter if you're on the go, in the office, or at home. You can go on working from a computer, tablet or phone.
Administrative tools of the management level
A mighty administrative setup provides you complete control over users, devices, security, and more. Your information is always yours and will go with you even though you shift to other resolutions.
Contains: Mail, Google Calendar, Google Drive, Google Docs and much more.
With a company account you have the possibility to have your users. You can utilize gmail as an email with your domain even on drive.
Google Apps has all the tools of Google and permits both individuals and businesses to get access to all services in a single administration panel, so you can access different employees at the same time.
So you can make new documents in various formats, save them in the cloud, edit them between some workers and share it publicly or privately to a specific client. You can even stay in touch with your customers through videoconferences, which gives the opportunity to participate up to 15 people.
GSuite Price – How much does G Suite cost?
From just 4 € per user per month, this is the official price list of G Suite in Spain. From the following prices you can get a 20% discount on G Suite for all users during the first year.
Flexible Plan
Annual plan
Commitment
None
One year of service for licenses acquired at the beginning of the contract.
Billing cycle
Monthly
Monthly
Monthly payment
G Suite Basic: 4 € per user
G Suite Business: 8 € per user
G Suite Basic: 3,55 € per license (approximately)
Annual total
G Suite Basic: 48 € per user
G Suite Business: 96 € per user
G Suite Basic: 42,55 € per license (approximately)
Add users
At any time for an additional monthly cost
At any time for an additional monthly cost
Remove users
At any time (reduces monthly cost)
Only when you renew the annual contract; until then you pay for all licenses purchased
Cancel service
At any time without penalty
You must pay the annual commitment (even if you cancel before)
If you want to get this you can easily look for the code on this page.
These basic and business given code deals are perfect for an email plan promotion of users.
Related keywords:
basic business code deal email first planpromotion sign verified
basic business code codes get promotion sign verified
Reasons to try G suite
With Gmail for Work, you have the opportunity to get a personalized email with your domain and more.
It helps employees streamline work and communicate quicker and more efficiently.
Millions of organizations of all sizes have been using it for long.
If your country or zone is not on the list, there are some links above to try G Suite Free.
In case you fail to find a valid coupon for your zone above, you can:
00:00:00
G Suite Free trial – How to get GSuite for FREE ?
If you use these steps you will manage to create a Free G Suite account and you can make use of the G Suite for several days. To get to the G-Suite version and the discount coupons it is essential that you access from the link .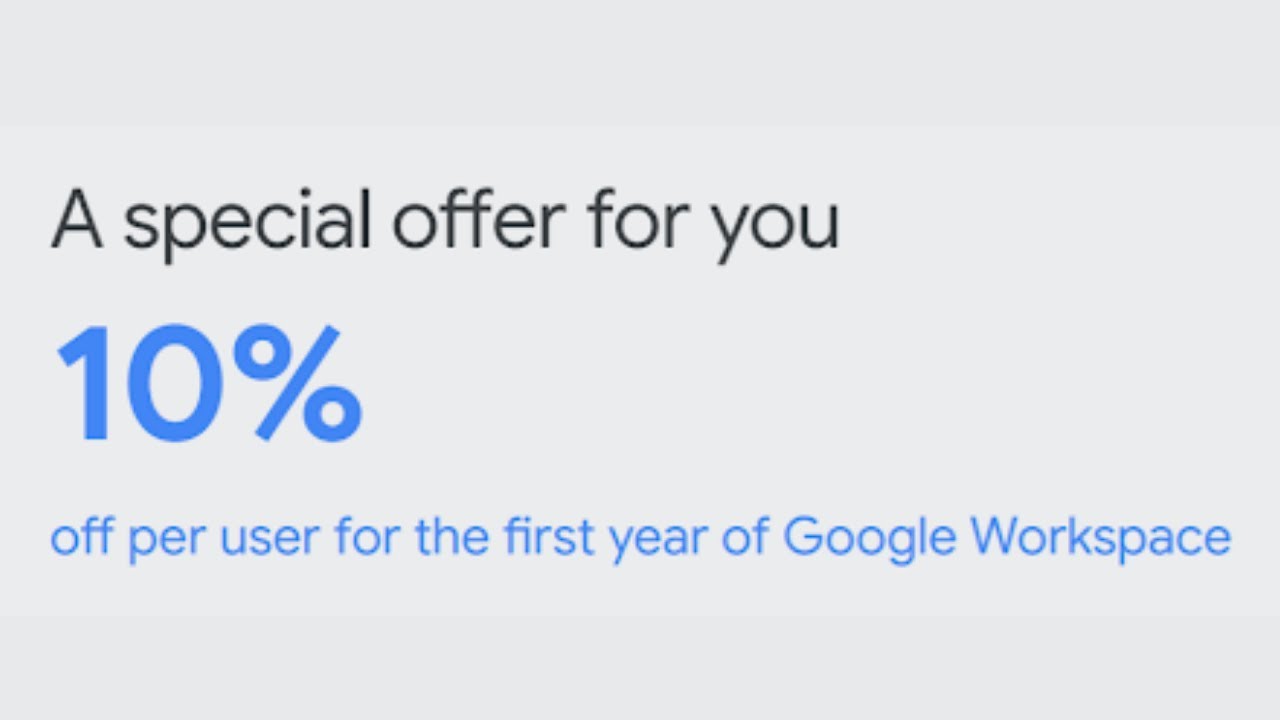 Frequently questions
How to get G Suite FREE ?
To get G Suite FREE you only have to follow the steps of this link: Link
How to get a G Suite promo code ?
To get a G Suite promo code you can get a new personalized code for you here: Link
How much cost G Suite and difference of plan Basic and Business ?
The prices of G Suite are these: Link